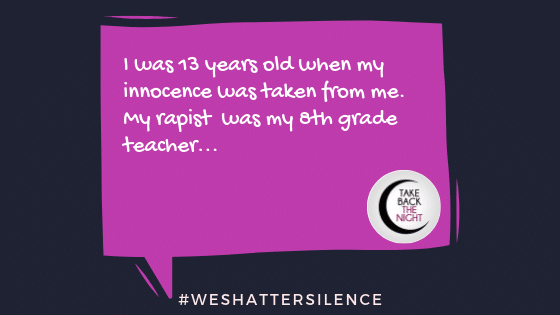 2010
I was 13 years old when my innocence was taken from me.
I had a whole life ahead of me. My rapist was my 8th grade teacher. He had
asked me to stay after school for a project… Little did I know what his
intentions were. I walked to the back of the room after school, to get
something from the back closet. It was a walk in closet. Not very large. He
followed me in and shut the door. He grabbed me around the waist and grabbed
my arms. He spun me around and threw me to the ground. I must have hit my
head, because I blacked out for a minute, he was undoing my pants and had his
belt in his hand. I screamed and he whipped me. He continued to undress me,
to the point that I was naked. Laying on the cold floor. He was knelt over
me. He began to undress and raped me. The whole time I cried and everytime I
screamed he hit me. Harder. I wished in that moment I would have just died.
When he was finished. He threw my clothes at me and said run. But if I ever
told anyone, he'd make sure it was worse the next time. It's been four years.
And I've finally told. And soon getting justice for the many years he took
away from me.
Are You A Sexual Violence or Abuse Victim and Need FREE Legal Help? Click to Apply!
https://takebackthenight.org/wp-content/uploads/2019/04/rape-survivor-story-1.png
315
560
Jason Lubar
https://takebackthenight.org/wp-content/uploads/2019/01/logo-top-300x138.png
Jason Lubar
2019-04-09 11:42:38
2019-04-22 15:12:42
13 years old in Moline, IL