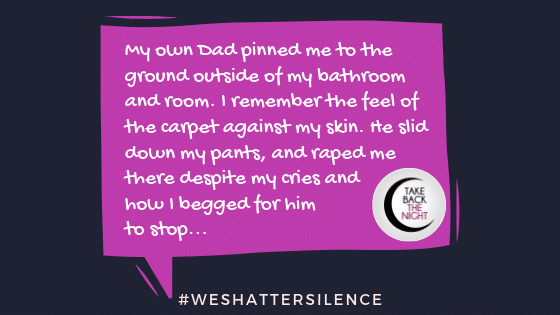 I don't know how old I was, or when it happen. All I know is who did it, where it happen, and how it had happen. I was barely a child, but I was old enough to be able to remember memories. I had innocence. I liked Minnie Mouse and Disney movies.
My own Dad pinned me to the ground outside of my bathroom and room. I remember the feel of the carpet against my skin. He slid down my pants, and raped me there despite my cries and how I begged for him to stop. I can remember his deep voice telling me not to tell anyone, especially my Mom. I nodded, and tried to forget about it. I think it might of happen again–but my mind is blurry on that.
My Dad verbal and physically abuses me as well. He sexual abuses me in a way with calling me 'sexy' and 'beautiful' when I am alone with him. He grabs my wrist so tight when he talks to me, and scream at me.
During a summer, I have a strong suspicion that my Aunt and Uncle sexual assaulted me. I've been having flashbacks about that for awhile now.
A teacher of mine molested me when I was in 5th grade, and followed my parents by car.
The first person I told was my ex-boyfriend, who is also a best friend of mine. But I don't know how much he cares about me right now.
Are You A Sexual Violence or Abuse Victim and Need FREE Legal Help? Click to Apply!
https://takebackthenight.org/wp-content/uploads/2019/06/child-rape-survivor-story-2d.png
315
560
admin
https://takebackthenight.org/wp-content/uploads/2019/01/logo-top-300x138.png
admin
2019-06-13 15:43:15
2019-06-13 15:43:15
15 Years Old In Elliot City, MD | #WeShatterSilence | Let This Story Be Heard By Clicking Share