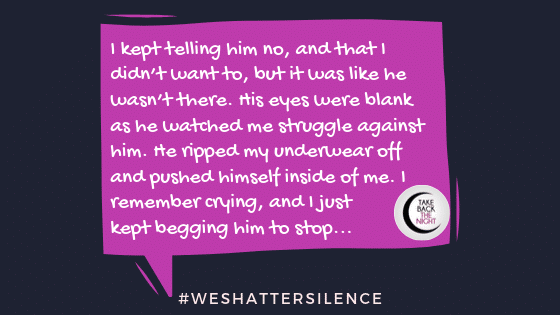 My story begins in late October of 2003. I had met "Ryan" online. I guess I should have known to be more careful, but since the time my father had passed away I had become more reckless, I was somewhat promiscuous. I met with "Ryan" several times, and we started getting closer. On October 31st,a saturday, the program that I lived with at college was going to be having a halloween party. "Ryan" expressed an interest in coming down to it, so I drove up to his house to bring him down.
When I got to his house, he had already been drinking. I guess looking back that should have been my first sign, but like I said "what if's" won't help me write this. We left his house, returning to my school, and he continued to drink the entire way back to school and he continued to get worse and worse.
Once we got there and got up to my dorm room so I could change, he began to be beligerant to my roommate and was harassing her. She left to go to the party, I finished getting ready, and we headed downstairs to the part. By this time he wasn't feeling well and was getting sick, so I told one of the girls running the party that I would be back later, because I was supposed to help out.
I ran back upstairs and changed out of my costume. I was a victorian vampire, I can remember all the details of my dress: the color, the way my hair was, my makeup. So many insignificant details. I can see my friend when i told her I had to leave, I remeber all the decorations in the basement. I can see it all in perfect detail, those few hours before my life was forever changed.
The drive back was pretty uneventful, with the exception of him trying to get out of my car while I was doing 70 on the freeway. I got him home and while he was able to get out of the car by himself, he almost passedout at the door, and I had to use his keys to get into his house. He crawled in the door and passed out on the floor. Now I had never seen anyone so drunk before and I was worried that he would be ok or not. I helped him up and got him on to the couch. I think back on this moment and wonder why I stayed, why I worried about him. I didn't know him that well, why did I care. I guess I'll never be able to answer those questions.
He gained some semblance of consciousness while he was sitting on the couch. I asked him if he was ok, and if he needed anything. He got this look in his eyes, its a look I'll never forget. I'll never know how he did it, but he grabbed me by the shoulders and pushed me back on the couch. I was wearing a long skirt so he was able to pull it up. I kept telling him no, and that I didn't want to, but it was like he wasn't there. His eyes where blank as he watched me struggle against him. He ripped my underwear off and pushed himself inside of me. I remember crying, and I just kept begging him to stop.
I don't know how much time passed, but he was finally done. He got off me and just went back to sitting on the couch and he turned on the TV. For me it was like I wasnt' there anymore. I couldn't understand how he could just sit there like nothing had happened. I sat up, pulling down my skirt, I couldn't find my underwear. I never said a word to him, I just picked up my purse and calmly walked out the door. The minute the door was closed I ran to my car, it was like as soon as that door was closed between him and me, I could feel again. My body hurt everywhere.
I got in my car and drove. I don't remember where I went though, school was only half an hour to 45 minutes away and it was about 1am or so. I didn't get back to my dorm until 10:30 that morning….I have no memory of those hours.
_____________________________________________________________
I went to the college wellness center was examined and was given the morning after pill. I tried to continue school, but my grades started slipping. The spring semester rolled around and i was placed on academic probation. I started not going to classes, not doing homework, just generally not caring abotu school because I couldn't care about myself. Towards the end of the year on of my professors tol dme I would fail his class and that i should get a withdrawal from it, so that it didn't affect my grades. To do so, I had to petition the deans office. I waited over a week for an answer from them, and when i got it, it wasn't what I expected. I was granted the withdrawal, but I was being forced to take a leave of absence do that I could deal with my "issues". The wellness center had told the deans office everything that had happened, and the deans answer to that was to kick me out for a semester. _____________________________________________________________
I would be a year and a half before the semblance of life that I had made for myself would be destroyed again. I had returned to school. I had jumped through every hoop that the deans wanted me to and I was allowed to return.
It was May 7th, the guy that I had been seeing on and off again since January, "Allan," asked me to come down to visit him. I hadn't seen him in about a month, so I decided it was a good idea. I had an idea that he was expecting something to happen because we had been intimate before, but it wasn't what I wanted to see him for. I got there and he buzzed me into his apartment. I went in and he was naked, just about to take a bath. I came in and got settled, I started flipping through the channels on the TV. "Allan" was in the bathtub and he called for me to come to him in the bathroom. I got up and peered around the corner: he was sitting in the tub and he was shaving himself down there. I wouldn't know how important that was to be until later.
He came out of the bathroom wearing just his boxers and a t-shirt, and sat down next to me to me to watch TV. We smoked some weed and he had a few beers. After while he got hungry so I cooked dinner for him. We continued watching TV for awhile when we leaned over and started kissing me. When he started trying to touch me I told him to stop and that I didn't want to. He stopped and just went back to watching TV; it was almost like he forgot that I was there. A few minutes passed and he started trying to kiss me again, and one again I told him to stop. This time he stopped long enough to get up and grab my arm and drag me to his bedroom.
He pushed me on to the bed, and because I was wearing a skirt and tank top he was able to just push them up while he went to hold me hands down above my head. When he got my skirt up he pushed his fingers into me. It felt like he was digging his nails into me. The louder I would cry the more he would hurt me. He stopped that and because he was wearing boxers he pushed himself inside of me. He let go of my arms and I started pushing at him trying to get him off of me. He got angry and bit me in several places on my chest. When I started screaming he wrapped his hands around my neck and started choking me. I became terrified that he was going to kill me. I passed out, and when I came to I was on my stomach and he was behind me trying to push his fingers into me anally. When I started crying again, he told me to shut up and started calling me name. He then tried to push himself into me anally. I was doing everything I could to stop him, and he finally did give up trying. He moved me back onto my back and started to rape me again. My body seemed to have stopped working, I couldn't fight him anymore and I stopped yelling, but I remember still crying.
When he was done, he just rolled over and seemed to fall asleep. I was finally able to make my body move again. I got up and managed to leave his apartment.
It was nearly 4 a.m. before I was able to leave…it had been 6 hours of hell that he put me through. ____________________________________________________________
My life hasn't been the same since that night. I was doing so much better;it had been a year and half of counseling; I was piecing my life back together at that night tore everything I had worked for away. Slowly, through the help of those that I have to support me I am realizing that he won't win, that I have control of my life, and though it might be a long road I'm not alone.
Are You A Sexual Violence or Abuse Victim and Need FREE Legal Help? Click to Apply!
https://takebackthenight.org/wp-content/uploads/2019/10/20-Years-Old-in-Unknown-OH-1.png
315
560
admin
https://takebackthenight.org/wp-content/uploads/2019/01/logo-top-300x138.png
admin
2019-10-17 13:08:04
2019-10-17 13:08:04
20 Years Old in Unknown, OH | #WeShatterSilence | Let This Story Be Heard By Clicking Share