Sexual Violence, Rape, and Abuse Survivor Stories
Read the inspiring and powerful stories of survivors of violence and abuse. Are you a survivor wanting to learn about your legal options? Visit our Justice Hotline webpage.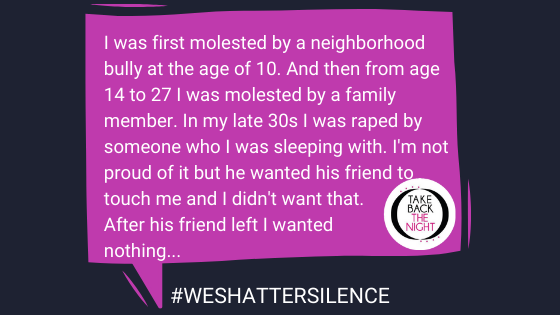 I was first molested by a neighborhood bully at the age of 10. And then from age 14 to 27 I was molested by a family member. In my late 30s I was raped by someone who I was sleeping with. I'm not proud of it but he wanted his friend to touch me and I didn't want that. After his friend left I wanted nothing. But he started touching me and I said no and he wouldn't stop and I froze up. Last year I was raped Again by somebody else. I already told him no I wanted nothing more from him but he still came over and raped me. He pinned me against my bedroom wall and I kept telling him no he was much stronger than I was he locked my bedroom door and wouldn't let me leave. I told him I didn't want to get hurt but he said nothing. he then pushed my back to the bed and pin me down on the bed and I kept telling him no and then I told him to go f*** his f****** wife which was his girlfriend he was living with. He acted as though he didn't hear me nor did he care any still rape me after I kept telling him no eventually froze up didn't cry nothing. He even almost choked me but did stop after he realized I struggled to breathe, even apologized for the near choking. He started pulling my shorts off, I wanted it over with scared. I wanted him gone. It was over quickly. Afterwards he acted as if nothing happened and I felt that it didn't happen. after he left it started going through my head and I still don't even want to think about it. I know no means no but I still felt I deserved it because I didn't love him he didn't care about me. I guess it was the only way that get me to realize that he was heartless and to keep him away. Nothing was ever done I filed charges but the cops didn't believe me because I slept with him before so there's nothing else I can do but to try to get healing for myself from my childhood and even from last year. I still blame myself even though the logic sides knows the truth even though I feel like I'm never going to be believed again I can't trust anybody but I still have hope because I have to take care of my son. One day it'll all be behind me I live a better life all that will not affect me as it does now. I may not trust anybody right now afraid to get close have triggers and fear for so much but one day it will all be behind. I don't know if I'll be able to tell the full story of what happened last year because of the shame I still carry and part of me still not ready to process but I don't know. All I know is that I said no several times and he wouldn't let me go I may have not been threatened or being beaten but he wouldn't let me go.he d I don't have to say a word in court, but judges for restraining order told him not to because he could incriminate himself since he couldn't afford a lawyer. I had to speak in front of people scared, humiliated and felt I wasn't believed so I must have deserved it anyways as tho it doesn't matter what I thought. I'm in therapy, even intensive therapy for suicidal thoughts. How dare I think that way because I have my son, we are all each other has so I must stay alive. I won't let them win, nor can I be silent. No means no!!! I did not deserve that.
Are You A Sexual Violence or Abuse Victim and Need FREE Legal Help? Click to Apply!
https://takebackthenight.org/wp-content/uploads/2019/11/48-Years-Old-in-Nashville-TN.png
315
560
admin
https://takebackthenight.org/wp-content/uploads/2019/01/logo-top-300x138.png
admin
2019-11-21 13:22:12
2019-11-21 13:22:12
48 Years Old in Nashville, TN | #WeShatterSilence | Let This Story Be Heard By Clicking Share
Get Free Legal Assistance!
Are you or a loved one a victim of sexual violence, rape, or other forms of abuse? Call 567-SHATTER or complete the form below.