Sexual Violence, Rape, and Abuse Survivor Stories
Read the inspiring and powerful stories of survivors of violence and abuse. Are you a survivor that needs FREE LEGAL HELP? Fill out this form to get in touch with a lawyer today.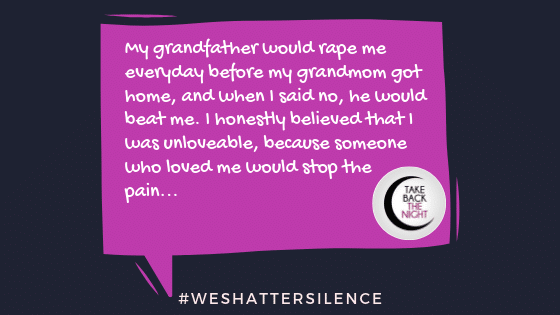 I was nine, and living with my grandparents. My grandfather would rape me everyday before my grandmom got home, and when I said no, he would beat me. Sometimes he would come into my room at night while I was sleeping and pin me to my bed while he raped me. This went on for 4 years, and no one ever noticed. I honestly believed that I was unloveable, because someone who loved me would stop the pain. Then someone reported it to CPS, and he left my life. I'm still having some problems related to it, like I still don't trust people very much, and I'm afraid to be touched by anyone at times. But its better than it ever was, and I'm grateful.
Are You A Sexual Violence or Abuse Victim and Need FREE Legal Help? Click to Apply!
https://takebackthenight.org/wp-content/uploads/2019/08/teen-family-sexual-assault-1.png
315
560
admin
https://takebackthenight.org/wp-content/uploads/2019/01/logo-top-300x138.png
admin
2019-08-08 11:44:16
2019-08-08 11:44:16
16 Years Old in Justin, TX | #WeShatterSilence | Let This Story Be Heard By Clicking Share
Apply For Free Legal Assistance!
Are you or a loved one a victim of sexual violence, rape, or other forms of abuse? Apply today for FREE legal help by filling out the form below.