Sexual Violence, Rape, and Abuse Survivor Stories
Read the inspiring and powerful stories of survivors of violence and abuse. Are you a survivor wanting to learn about your legal options? Visit our Justice Hotline webpage.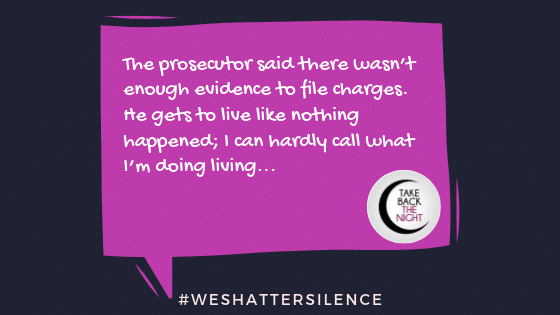 2013
He was my friend. I had known him for almost twelve years. We had met at church, for goodness sake! I was having a hard night after finding out that I hadn't gotten a job that I really needed. He
insisted on coming over because he was worried about me. He brought beer, and I got drunk. I was about to pass out when he kissed me. He asked if I wanted to sleep. I went tobed and didn't know he'd followed me until I woke up with him touching me, hurting me, and his tongue in my mouth. It continued for six hours, and I was in and out of consciousness throughout. I went to the police, but in the end the prosecutor said there wasn't enough evidence to file charges. He gets to live like nothing happened; I can hardly call what I'm doing living.
Are You A Sexual Violence or Abuse Victim and Need FREE Legal Help? Click to Apply!
https://takebackthenight.org/wp-content/uploads/2019/04/rape-survivor-story-4.png
315
560
admin
https://takebackthenight.org/wp-content/uploads/2019/01/logo-top-300x138.png
admin
2019-04-22 15:20:48
2019-04-22 15:21:06
26 years old
Get Free Legal Assistance!
Are you or a loved one a victim of sexual violence, rape, or other forms of abuse? Call 567-SHATTER or complete the form below.