Sexual Violence, Rape, and Abuse Survivor Stories
Read the inspiring and powerful stories of survivors of violence and abuse. Are you a survivor that needs FREE LEGAL HELP? Fill out this form to get in touch with a lawyer today.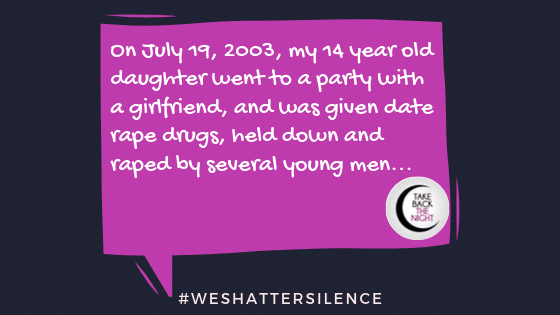 On July 19, 2003, my 14 year old daughter went to a party with a girlfriend, and was given date rape drugs, held down and raped by several young men. The DNA came back showing only one man did not use protection. He also raped a 12 year old neighbor while waiting to hear the outcome of the charges from raping my daughter. He avoided jail by convincing the judge to use a Deferred entry of judgement, a loophole in California law created with the election of Prop. 21. Senator Roy Ashburn now has a bill pending in the Capitol, SB 520, and Assemblywoman Audra Strickland has a similar bill, AB 743. You can go to aroundthecapitol.com and type in the bills under search, and get a chance to e-mail the committees who are hearing these bills. Please put your voice out there for them to hear, even if you are not from our state. It is important that we close these loopholes which allow rapists to walk free.
Are You A Sexual Violence or Abuse Victim and Need FREE Legal Help? Click to Apply!
https://takebackthenight.org/wp-content/uploads/2019/10/45-Years-Old-in-Bakersfield-CA-.png
315
560
Jason Lubar
https://takebackthenight.org/wp-content/uploads/2019/01/logo-top-300x138.png
Jason Lubar
2019-10-17 13:11:02
2019-10-17 13:11:02
45 Years Old in Bakersfield, CA | #WeShatterSilence | Let This Story Be Heard By Clicking Share
Apply For Free Legal Assistance!
Are you or a loved one a victim of sexual violence, rape, or other forms of abuse? Apply today for FREE legal help by filling out the form below.