Sexual Violence, Rape, and Abuse Survivor Stories
Read the inspiring and powerful stories of survivors of violence and abuse. Are you a survivor that needs FREE LEGAL HELP? Fill out this form to get in touch with a lawyer today.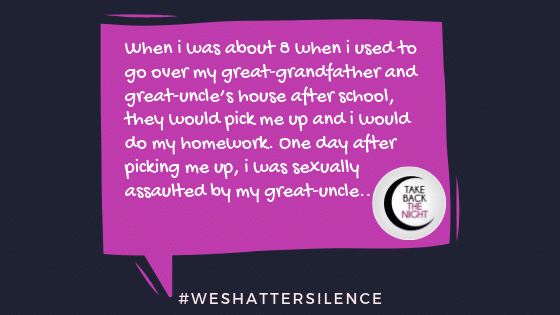 When i was about 8 when i used to go over my great-grandfather and great-uncle's house after school, they would pick me up and i would do my homework. One day after picking me up, i was sexually assaulted by my great-uncle, i didnt really understand what was going on, He made me swear i would not tell anyone. I didnt understand how wrong it was until about three years later. By then my great-uncle had moved out of the state.
Are You A Sexual Violence or Abuse Victim and Need FREE Legal Help? Click to Apply!
https://takebackthenight.org/wp-content/uploads/2019/08/teen-sexaul-assault-family-1.png
315
560
Jason Lubar
https://takebackthenight.org/wp-content/uploads/2019/01/logo-top-300x138.png
Jason Lubar
2019-08-22 12:04:07
2019-08-22 12:04:07
14 Years Old in Arlington, MA | #WeShatterSilence | Let This Story Be Heard By Clicking Share
Apply For Free Legal Assistance!
Are you or a loved one a victim of sexual violence, rape, or other forms of abuse? Apply today for FREE legal help by filling out the form below.