Sexual Violence, Rape, and Abuse Survivor Stories
Read the inspiring and powerful stories of survivors of violence and abuse. Are you a survivor that needs FREE LEGAL HELP? Fill out this form to get in touch with a lawyer today.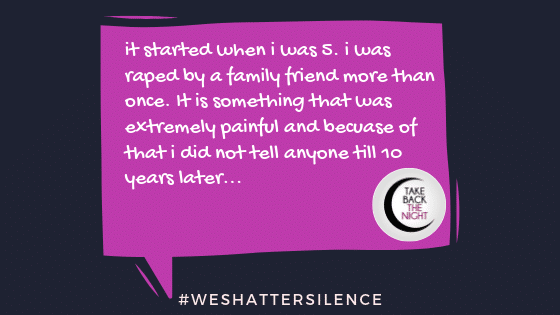 Unfortunately I have been a victim of sexual violence more than once. all throughout my life i have had to deal with such things. it started when i was 5. i was raped by a family friend more than once. It is something that was extremely painful and becuase of that i did not tell anyone till 10 years later. then at the age of 10, i was sexualy harassed by a fellow peer at school. then again at 12 another family friend molested me in my own home. it took me years to overcome the emotional wounds of these experiences, but i did. and becuase of my experiences i have become a stronger person. and i am now determined to speak out against sexual violence through organizations like this and help other people who have been through the same thing. god bless everyone associated with this sight, and let's continue to "shatter the silence!"
Are You A Sexual Violence or Abuse Victim and Need FREE Legal Help? Click to Apply!
https://takebackthenight.org/wp-content/uploads/2019/06/teen-rape-survivor-story-2dd.png
315
560
Jason Lubar
https://takebackthenight.org/wp-content/uploads/2019/01/logo-top-300x138.png
Jason Lubar
2019-06-13 15:49:10
2019-06-13 15:49:10
16 Years Old In Temple City, CA | #WeShatterSilence | Let This Story Be Heard By Clicking Share
Apply For Free Legal Assistance!
Are you or a loved one a victim of sexual violence, rape, or other forms of abuse? Apply today for FREE legal help by filling out the form below.