Sexual Violence, Rape, and Abuse Survivor Stories
Read the inspiring and powerful stories of survivors of violence and abuse. Are you a survivor wanting to learn about your legal options? Visit our Justice Hotline webpage.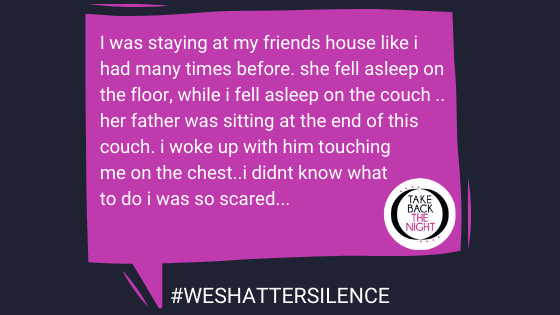 I was staying at my friends house like i had many times before. she fell asleep on the floor, while i fell asleep on the couch .. her father was sitting at the end of this couch. i woke up with him touching me on the chest..i didnt know what to do i was so scared, i was thinkin to myself if i yell he may turn violent, so i sat there and prayed to god that this would end i was screaming so loud inside but no one could here me. He reached his hand lower onto my body, he got to the lining of my pants and i pretended to shift in my sleep. it worked he moved his hand back up 2 my chest but know.. his body was moving, i had no idea what he was doing. he was grabbing me harder on the chest now and then i realized he had been masturbating. Tears were pourin from my eyes, i tried not to let him see and to still pretend to be asleep. He left the house when someone called shortly after…I broke down when he left i didnt tell anyone though. not until recently. I dont dare tell my friend though.. im too scared she'll hate me. i still dont understand why this happened to me or what i did wrong or any of the things i feel now. That night something inside me changed, its like an innocent part of me died. Any child like feelings i had left me that night. And reality struck me.
Are You A Sexual Violence or Abuse Victim and Need FREE Legal Help? Click to Apply!
https://takebackthenight.org/wp-content/uploads/2019/10/15-Years-Old-in-Norwalk-OH.png
315
560
admin
https://takebackthenight.org/wp-content/uploads/2019/01/logo-top-300x138.png
admin
2019-10-31 09:57:31
2019-10-31 10:00:18
15 Years Old in Norwalk, OH | #WeShatterSilence | Let This Story Be Heard By Clicking Share
Get Free Legal Assistance!
Are you or a loved one a victim of sexual violence, rape, or other forms of abuse? Call 567-SHATTER or complete the form below.