Sexual Violence, Rape, and Abuse Survivor Stories
Read the inspiring and powerful stories of survivors of violence and abuse. Are you a survivor that needs FREE LEGAL HELP? Fill out this form to get in touch with a lawyer today.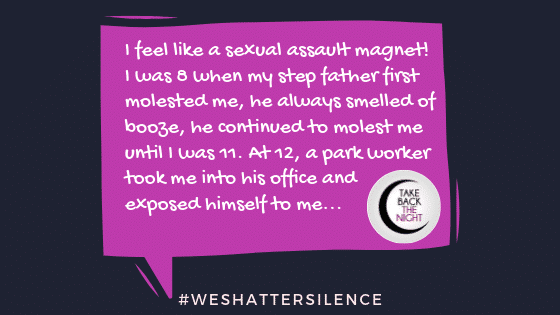 I feel like a sexual assault magnet! I was 8 when my step father first molested me, he always smelled of booze, he continued to molest me until I was 11. At 12, a park worker took me into his office and exposed himself to me. He wanted me to touch him but I ran out.When I was 13, I was jumped by 5 boys at a park. They were all on top of me at once grabbing me, sticking their tongues in my moth and their hands down my pants. At 15, my stepfather was back for a visit, he had his hands all over me and tried to rape me. When I was 20, I was raped, beaten and choked for 3 hours by a stranger. He was never caught. I am STILL scared at night! I am 40 now and have told less than a handful of people about my experiences. Thank you for letting me share.
Are You A Sexual Violence or Abuse Victim and Need FREE Legal Help? Click to Apply!
https://takebackthenight.org/wp-content/uploads/2019/05/sexual-assault-survivor-story-10.png
315
560
Jason Lubar
https://takebackthenight.org/wp-content/uploads/2019/01/logo-top-300x138.png
Jason Lubar
2019-05-15 11:44:58
2019-05-15 11:52:25
40 Years Old In Cooper City, FL | #WeShatterSilence
Apply For Free Legal Assistance!
Are you or a loved one a victim of sexual violence, rape, or other forms of abuse? Apply today for FREE legal help by filling out the form below.