Global First
Take Back the Night is the earliest worldwide effort to combat sexual violence and violence against women. In the 70's, the issue of violence against women became a topic of public conversation when a number of incidents garnered media attention. In 1972, a group of women at the University of Southern Florida marched through campus demanding resources and safety for women. Then, in 1973, San Francisco citizens protested violent "snuff" pornography films. In October 1975 , Philadelphia's citizens held a public march after the murder of microbiologist Susan Alexander Speeth, who was stabbed to death on the sidewalk near her home after work. In 1976, a tribunal council of women from dozens of countries met in Belgium to discuss unsafe conditions for women.
Read

"Take Back the Night" was used as the title of a 1977 memorial read by Anne Pride at an anti-violence rally in Pittsburgh. One of our Board members, Laura Lederer, named her 1980 book Take Back the Night to analyze the issue of violence against women.
Canadian Leadership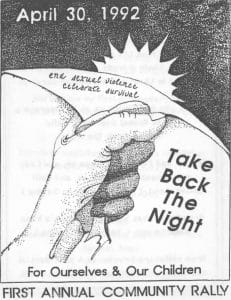 Canadians held a march to protest sexual violence in 1978 in Vancouver, British Columbia. The Vancouver Rape Relief held Take Back The Night marches from 1980-1985. In 1981, The Canadian Association of Sexual Assault Centers declared the third Friday of September to be the evening for Take Back The Night marches nationwide. Hundreds of communities throughout Canada hold events in September and have been featured as TBTNF's 10 Points of Light to Take Back the Night.
Take Back The Night Foundation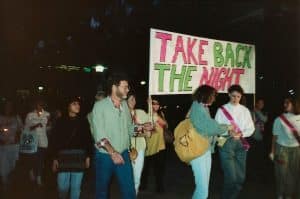 The Take Back The Night Foundation came together in 2001 under the leadership of Katie Koestner, the first woman in the US to come forward nationally and publicly as the victim of campus "date" rape. The goal was to form a hub for information sharing, resources, and support for both survivors and event holders. The Take Back The Night Foundation collects anecdotes, photos, memorabilia, and oral histories from those who have participated in TBTN events around the world. We are actively collecting the history of Take Back The Night event holders and participants, and welcome all historic memorabilia for our archives. Please contact us with any items or information pertaining to TBTN's history.
Present Day
The Take Back The Night Foundation has supported the addition of over 300 event holders in the last decade and more communities join us each year. We help communities hold "Bike for the Night" events, "Shine Your Light Yoga" events, 5K "Glow Runs", International Conferences, Regional Training Conferences and many other events. We have internships for those who want to get involved. The TBTN Foundation sees the value in the wide array our events. We offer support and fundraising help to all who would like to work with us to end sexual violence in all forms and support survivors in their healing.