Saturday, December 12, 2020
Come out and breathe, stretch, and strengthen your body, mind and soul on December 12, 2020, in support of survivors of all forms of sexual violence!  Choose a session at the bottom of the page to participate from your location via live webstream with the host yoga studio and their attendees.
Organized by the Take Back The Night Foundation, a 501(c)3 nonprofit, this nation-wide event features yoga studios from all 50 states.  Select an online class from all the themes and yoga styles below! Grab your mat, towel and wonderful self to join with thousands across the country in support!
100% of your fee is a donation to the TBTN Foundation to help us support survivors and raise awareness.  Our goal is to breathe the largest collective breath possible on 12/12/2020!  Our unity is our strength as we Shine Our Light!
Carrie Coppola
Owner, Mudita - Be Joy Yoga
Carrie Coppola (She/Her) is the owner of Mudita – Be Joy Yoga. Carrie has a M.Ed. from the University of Utah and is a 500 E-RYT and Certified Yoga Therapist. Carrie believes yoga found her. She immediately felt the profound healing benefits of the practice. This ignited passion led her to create Yoga for Recovery, a program integrating yoga in treatment centers.Carrie has facilitated yoga for countless people in recovery through group and individual sessions, monthly workshops, weekly classes, within each sharing the hope and possibility of utilizing yoga to rediscover the connection to self, lost through trauma and addiction. Carrie is the director of Be Joy Yoga School, holding yearly yoga teacher and Trauma-informed training to support teachers to step into their intuitive self and facilitate healing through yoga. Carrie holds a deep reverence for the practice of yoga. Whether teaching classes, leading retreats, or offering trainings, her intention is to create a safe, compassionate space to come home to yourself and be joyful.
Take Back the Night
Jody Hassel
Founder and Executive Director, Blossom House
Jody Hassel (She/Her), M.F.A., E-RYT, TCTSY-F is the Trauma Center Trauma Sensitive Yoga Trainer for Alaska and Hawaii. She is the founder and Executive Director of Blossom House, a nonprofit service organization providing accessible, trauma-informed interventions to incarcerated and in-custody communities. Blossom House's Yoga Service Project Alaska currently offers weekly yoga as well as a Yoga Teacher Training program for men and women at the Fairbanks Correctional Center and yoga classes for youth at the Fairbanks Youth Facility. Jody is also a Supervisor for the 300-Hour TCTSY Certification Program at the Center for Trauma and Embodiment in Boston. Creating access to an embodied practice of being present and feeling empowered are Jody's highest priorities in facilitating yoga.
Take Back the Night
Lisa Frank
Yoga Specialist, Miraval Wellness Resort
Lisa Frank (She/Her) is a specialist at the acclaimed Miraval Wellness Resort offering Wellness Counseling and Yoga and Meditation services, as well as private practice. She emphasizes freedom, flow, awareness and acceptance. With a Masters in Educational Counseling, Lisa is passionate about sharing the transformational practices of yoga, inner compassion, and mindfulness with others to help them experience healthy, happy lives and connect to their highest potential. Lisa is a 500-hour Certified Yoga Teacher with training in a variety of modalities. Additionally, she is a Phoenix Rising Yoga Therapist, Substance Abuse Counselor, Emotional Freedom Technique Practitioner, Holistic Life Coach and Belief Breakthrough Method Coach. Lisa is inspired to help people align mind and body as a source of healing, self-discovery, and personal empowerment. Lisa's motto is "live love, love life!"
Take Back the Night
Colleen Caul
Facilitator of a Trauma-Informed Yoga Series, Empowered Spaces and Owner, InspireMovement
Colleen Caul (She/Her) is a 200 HR RYT, NASM, Certified Personal Trainer, Facilitator of a Trauma-Informed Yoga Series at Empowered Spaces, Owner of InspireMovement, LLC.
Yoga has held a very special place in Colleen's heart ever since she experienced her first sun salutation sophomore year in college. After graduating from Northwestern University, Colleen studied yoga sporadically while diving into the world of endurance running. Colleen's love for yoga blossomed in 2013 when she started taking classes more regularly. Suddenly, she was able to use yoga, pranayama and meditation to lower her stress, maintain perspective and instill a true sense of peace and balance in her life. This transformation was so powerful that it eventually inspired Colleen to shift her career from nonprofit management to health and wellness.
Through her business, InspireMovement, LLC, Colleen hopes to inspire people on a daily basis to tune inward and explore the way to best nourish their body on any given day, whether it's through rest, running, yoga, dance, or something entirely different. She strives to create a nurturing environment where individuals stretch themselves beyond the seemingly impossible, utilize creative energies to explore moving their bodies in space, and ultimately become inspired to passionately follow their dreams while building a balanced, healthy and fulfilled self.
Colleen facilitates the Trauma-Informed Yoga Program for undergraduate and graduate students at Saint Louis University in partnership with SLU Campus Recreation and Wellness, offers TIY series for at-risk young people through the Family Court of St. Louis County, and consults with Pedal the Cause. Since the summer of 2018, Colleen has hosted private Trauma-Informed Yoga workshops, series, and Self-Care workshops to various groups, including Washington University, S.A.F.E. Alternatives, Kids In The Middle, Pedal the Cause, and Got Your Six Support Dogs.
Empowered Spaces is where Colleen calls home. Founded by Kelly Caul MSW, LCSW in April 2018, Empowered Spaces is a collective of integrative psychotherapists, wellness professionals, yoga teachers, meditation teachers, activists and other helping professionals within a collaborative wellness center. As a collective, they are committed to shared visions of trauma-informed care, embodied healing, community empowerment, anti-racist solidarities, and social justice.
Take Back the Night
Jenay Aiksnoras
Chief Experience Curator, Bliss Experiences and Owner, Lake Tahoe Yoga and Realignment Coaching
Jenay Aiksnoras, (She/Her) ERYT500, MS Counseling, BS Psychology, is the Chief Experience Curator at Bliss Experiences, owner of Lake Tahoe Yoga and Realignment Coaching. Her specialties include guiding private group practices, therapeutic sessions, outdoor experiences, and small group sessions. Every practice is uniquely suited to the specific requests and needs of the group. Jenay began practicing Yoga in 2000 and earned her 200 level training certificate in 2005. In 2011 she earned her 500 level training certificate. She guides classes in the RajaHatha Yoga lineage which include specific instruction in breath, movement, mindfulness, and philosophical focus. Jenay believes that svadhyaya is the key to accessing the deeper aspects of the practice of Yoga: You must know yourself in order to reveal your Self. "Yoga is the practice of disassembling the puzzle of you, removing the pieces that are unnecessary, and rebuilding with only that which you need." Her empathic approach to guiding others is tempered by her understanding that she cannot do the work for you. Those that are drawn to practice with Jenay value her ability to encourage them to do their own work and recognize her as a guide upon the path.
Take Back the Night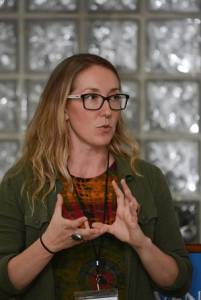 Morgan Vanderpool
Master of Social Work, University of Washington, Tacoma
Morgan Vanderpool, (They/Them) LICSW is a white, non-binary, queer, polyamorous and billingual (Spanish/English) clinical social worker, trauma sensitive movement and breath facilitator and professional trainer, and activist. They are deeply committed to neuroscientifically-grounded and mycelially-guided embodiment practices that support our collective disengagement from white-body-supremacy, and foster opportunity for anti-oppressive and trauma sensitive connection with every breath, movement, choice, thought and word. Morgan is honored to accompany badass survivors of the complex trauma, caused by interlocking systems of oppression, in our individual and collective process of body-based restoration, resistance, resilience and r/evolution.
Morgan believes that as survivors, we all have an amazing opportunity to rewire our nervous systems for authentic, embodied connection, and sustainable activism, through practicing trauma sensitive breath & movement patterns. Those patterns are created via cultivating present moment felt sensation, choice making, fostering a felt sense of agency, and creating sustainable rhythms of anti-oppressive engagement with self, others and the world. Which can be accessible when we practice what can be called 'yoga', in a decolonialized, de-commodified, and anti-oppressive way. Which is tricky, but they trust that we can co-evolve that kind of practice.
Morgan is excited to honor the badassery of our survivorship, and to our commitment to creating trauma sensitive and anti-oppressive relationships with every breath and movement. If you'd like to stay connected, you can find them at www.morganvanderpool.com or @morganicmovement.
Take Back the Night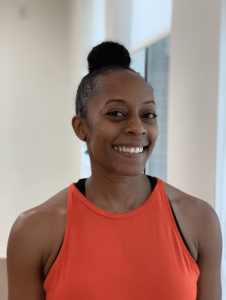 Tierra Barber
Yoga Instructor, Reiki Practitioner, and Health Coach
Tierra (She/Her) and yoga found each other at the same time she sought a deeper commitment to her physical, mental and spiritual health. Being a health and fitness enthusiast, yoga opened her eyes to a new expression of everything she loved.
Originally from Midland, Texas, Tierra received both her BSEd and MSEd from Baylor University in Health Science Studies and Exercise Physiology, respectively. After receiving her RYT-200 hour in 2013, she immediately started teaching to various demographics in the local community and privately. Her teaching has evolved to delivering a well-balanced class feeding the mind, body, and spirit.
Since then, Tierra has gone on to receive training in Thai Yoga Massage and Meditation. She recently completed her 300-Hour Teacher Training program through Yoga on High, which included the Urban Zen Integrative Therapy program. It's her ultimate desire to take yoga out of the studio and into the community to educate others on the benefits and holistic approach of yoga. Tierra is excited about her journey and is grateful for the opportunity to share her love of yoga with the world!
Take Back the Night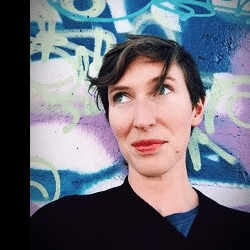 Ashleigh Collier
Yoga Instructor
Ashleigh Collier (She/Her) completed the Bikram Yoga Teachers Training in 2005, and certified at the 500 hour level in 2016. She specializes in Bikram, hot Hatha and restorative yoga and is a registered member of the Yoga Alliance.
Take Back the Night
Contact us
TBTN is a 100% volunteer organization. We do our best to respond to inquiries within 24 hours, if not sooner.
TBTN has victims' rights attorneys to provide Legal Assistance for survivors. Please complete the intake form. For all other inquiries, complete our contact form.
If you are in need of immediate medical or legal, support, please call 911. If you are in need of counseling support, please call (855) 598-4086 in the US or visit our Resources section for further information.
Events
August 2020
M
T
W
T
F
S
S
1
2
3
4
5
6
7
8
9
10
11
12
13
14
15
16
17
18
19
20
21
22
23
24
25
26
27
28
29
30
31
Scroll to top